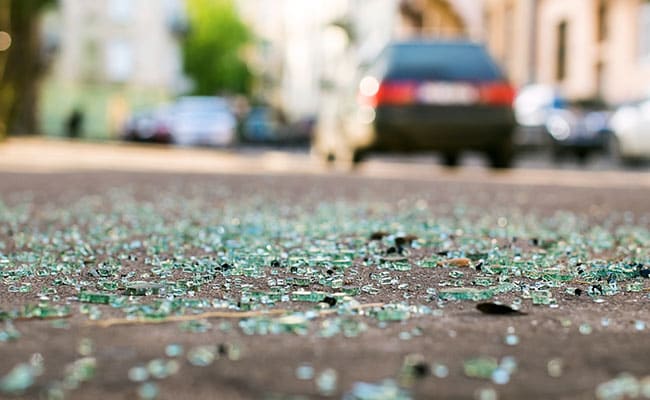 A few days back, Ahmedabad was shaken by a Jaguar driver speeding at 140 km/hour and crashing into a crowd at 1:30 am, killing nine and leaving a dozen more critically injured. 
A total of 296 accidents and 132 deaths have taken place on the Bengaluru-Mysuru Expressway since January, according to a report compiled by the office of the Additional Director General, Traffic and Safety, Karnataka. 
The Mumbai-Nagpur Expressway, a.k.a. Samruddhi Mahamarg, has seen an average of three accidents a day since it was thrown open to the public in December last year.
On the 701-km road, which is the country's second-longest expressway, a life is lost every third day. There have been nearly 620 accidents on the expressway and more than 100 people have died.
Similarly, the Ahmedabad-Mumbai Highway has seen several fatal accidents, including the one that resulted in the death of former Tata Sons chairman Cyrus Mistry in September last year.
India has a nearly 64 lakh km road network, which is the second largest in the world. This huge network serves as the preferred mode of movement for over 90% of India's passenger traffic. Improved road connectivity has minimised distances but has put lives at risk. Road traffic accidents are the leading cause of death, disabilities, and hospitalisations, with an unimaginable socio-economic cost to the country.
According to the World Health Organisation, at least one out of 10 people killed on roads across the world is from India. Every year, approximately 1.5 lakh people die on roads in India. In 2021, a total of 4,12,432 accidents were recorded, of which 1,42,163 (34.5%) were fatal accidents, and 2,46,027 (59.7%) were injuries (minor and grievous) causing accidents. These figures are staggering and the loss of human life is colossal. For the family that loses its loved member, maybe the only bread earner, it is a lifetime of pain and drudgery.
The latest data available with the Ministry of Road Transport and Highways reveals that speeding, drunk driving, driving on the wrong side, and failing to wear a seat belt or a helmet, along with bad road planning and potholes, are the major causes of accidents and deaths on our roads, highways, and expressways.
Speeding continues to be one of the major reasons for accidents and deaths. Some 87% of accidents happen in Gujarat due to speeding. The Jaguar accident took place on the SG Highway, a national highway that passes through the city of Ahmedabad and is an urban road. Constructed on the model of highway design, the SG Highway lacks speed-breakers, signages, and a clearly specified speed limit. Not using safety devices like helmets and seatbelts do not cause accidents but are critical to averting fatal and grievous injuries. Speeding and not using a seatbelt were the reasons for the death of businessman Cyrus Mistry and his co-passenger on the Mumbai-Ahmedabad national highway.
"Most of the crashes are caused due to the recklessness of the road users. Road users must follow safety protocols for their own safety and that of others. There are some concerns expressed by road users regarding the expressway concerning design, especially the undulations, curves, and entry and exit points on the Bengaluru-Mysuru Expressway. A team of experts has been deputed by the National Highway Authority of India (NHAI) to look into and to rectify it," says Alok Kumar, ADG Traffic & Safety, Karnataka.
Straight roads are normally considered less risky, yet a high number (67%) of accidents occur on them. A classic example is the Samuddhra Expressway, a greenfield project with six-lane concrete roads and clear lane markings, considered a delight for drivers. In contrast, it has led to the problem of visual fatigue with the driver watching the same scenery and having to drive on a monotonous road stretch.
"Highway hypnosis, also known as 'white line fever', is a state of mind that can affect drivers on long, monotonous highways. It occurs when a driver becomes so focused and engaged in driving that he enters a trance-like state, losing awareness of his surroundings and entering a semi-automated mode of driving. This phenomenon can be quite dangerous as it impairs the driver's ability to quickly respond to unexpected situations on the road. When a driver is in a state of highway hypnosis, he is no longer actively scanning the road and checking mirrors, which increases the risk of accidents," says Swati Devanhalli, Director, Western Regional Institute of Ophthalmology, Ahmedabad.
As infrastructure improves in the country, civic awareness and adherence to traffic rules and road safety have not kept up with the growth. Much needs to be done. Road accidents occur due to various factors and multi-pronged measures are required to reduce the number of accidents and fatalities, with the participation of all stakeholders.
Besides modifying flawed road design and engineering and upgrading trauma care facilities on the roads, strict enforcement of traffic laws is also mandatory.
Recently, the Gujarat High Court expressed its anguish over the authorities failing to enforce traffic rules on city roads, resulting in fatal accidents. Referring to the SG Highway tragedy, the bench said, "Do you know the core issue? The real reason why fatal accidents occur? Because these perpetrators do not have any fear of the law. They blatantly, with impunity, violate the law. You do not have the spine to implement traffic rules, neither have you the will to implement traffic laws."
Rash and Negligent Act, defined under Section 304, IPC (Indian Penal Code), provides for up to two years in prison for causing death by negligence (including in road accidents). Even if prosecuted, the offenders walk scot-free in two years. Adherence to the law, fear of strict punishment, road safety awareness, scientifically designed roads, and accessible trauma care need to be coordinated systemically by different departments of governments across the country to create a positive impact and save precious lives.
(Bharti Mishra Nath is a senior journalist)
Disclaimer: These are the personal opinions of the author.
Featured Video Of The Day
"Very Severe Crime": Kerala Governor Speaks To NDTV On Brutal Rape, Murder Of 5-Year-Old