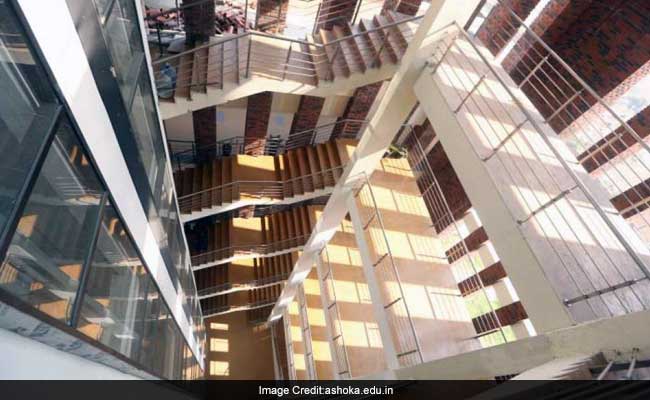 New Delhi:
A research paper by a faculty member of Ashoka University has landed the prestigious private university at the centre of political slugfest between the Congress and BJP.
The paper, Democratic Backsliding In The World's Largest Democracy, is authored by Sabyasachi Das, an assistant professor of economics at the university.
Mr Das, while stating that the BJP's disproportionate win of closely contested constituencies is largely concentrated in states ruled by the party at the time of election, argues that the density of the incumbent party's win margin variable exhibited a discontinuous jump at the threshold value of zero. This, he wrote, implied that the BJP won disproportionately more in constituencies where it was the incumbent party and which were closely contested. The paper mainly explores evidence in favour of the election manipulation hypothesis, also arguing that manipulation is local at the booth level, and implying that manipulation could be concentrated in constituencies that have a high share of observers who are state civil service officers from BJP-ruled states.
Congress MP from Kerala Shashi Tharoor tweeted that if "…the Election Commission and/or the Government of India have answers available to refute these arguments, they should provide them in detail. The evidence presented does not lend itself to political attacks on a serious scholar. E.g. the discrepancy in vote tallies needs to be explained, since it can't be wished away".
BJP MPs questioned the validity of the research. Party MP from Jharkhand Nishikant Dubey tweeted, "…It is fine to differ with the BJP on matters of policy but this is taking it too far… how can someone in the name of half-baked research discredit India's vibrant poll process? How can any University allow it? Answers needed- this is not a good enough response."
The university issued an official statement saying the paper in question has not yet completed a critical review process and has not been published in an academic journal, and that social media activity or public activism by Ashoka faculty, students or staff in their individual capacity does not reflect the stand of the University.
"Ashoka University is dismayed by the speculation and debate around a recent paper by one of its faculty members and the university's position on its contents. As a matter of record, Ashoka University is focused on excellence in teaching and research across multiple disciplines, with a vision to build India's finest university, create social impact and contribute to nation-building. The University encourages its 160-plus faculty to carry out research, but does not direct or approve specific research projects by individual faculty members. Ashoka values research that is critically peer-reviewed and published in reputed journals," the statement read.
Delhi BJP MP Pravesh Singh Verma too tweeted saying, This statement is as bad as the paper, if not worse. The moot point is- the author is suggesting our election process is flawed- and he is saying it without any basis. We need to keep discussing this – how anti-India elements are discrediting our democratic framework."
The findings of the paper were widely discussed with people from both sides of the political spectrum commenting on them. NDTV reached out to Sanjeev Bhikchandani and Ashish Dhawan, co-founders of Ashoka University. Mr Bhikchandani said the university had also already issued a statement.
Featured Video Of The Day
Have Welfare Schemes Squeezed Funds In Karnataka?